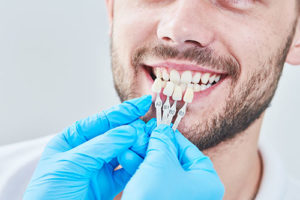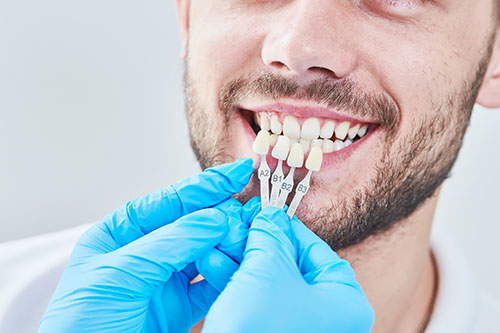 When it comes to superior-looking teeth, dental veneers at Lovett Dental Upper Kirby are definitely an option. These ultra-light, invisible tooth-colored shells fit beautifully over your teeth for a finished, authentic look. Whether you want them for purely cosmetic reasons or damaged teeth, cosmetic dentistry at Lovett Dental Upper Kirby is your first call to get things started.
At Lovett Dental Upper Kirby, we're committed to providing the best possible dental care to all of our patients. To that end, we provide a wide array of general, specialty, and cosmetic dental services, all of which we can tailor to the needs of each patient. For more information about the services available or to determine whether dental veneers are the right option for you, please contact Lovett Dental Upper Kirby today at 713-490-8888.
What Are Dental Veneers?
Dental veneers are a thin shell your Lovett Dental Upper Kirby dentist fits over your teeth. These ultra-thin shells are shaped and colored like teeth. This way, when applied, you can't see them. Therefore, they enhance the appearance of stained or chipped teeth.
Sometimes veneers are called porcelain veneers because of what makes them. However, other veneers consist of a resin substance. A professional technician in a dental lab custom makes the veneer, thereby ensuring a perfect fit.
When you secure dental veneer services at Lovett Dental Upper Kirby, you can be assured of excellent results.
The Purpose of Dental Veneers
The first set of veneers was created in 1928 by dentist Charles Pincus. This first set changed the appearance of an actor's teeth. But now, people use them to brighten their smiles or fix damaged teeth. Here are a few of the reasons someone may opt for dental veneers:
You have stained teeth that won't respond to a whitening procedure.
You have cracked, chipped, or broken teeth.
There are noticeable gaps between your teeth in the front, making a dark or triangular appearance.
Your teeth are uneven in the front due to wear and tear.
You can obtain dental veneers from Lovett Dental Upper Kirby for just one tooth or several teeth. Usually, people get them on those visible when smiling.
Whether you want to fix chipped teeth, fill in a gap, or brighten stained teeth, dental veneer services will do the trick. Consult your Lovett Dental Upper Kirby dentist during your annual teeth cleaning and dental exam about dental veneers.
How Can I Get Dental Veneers?
There are three steps to obtaining dental veneers. First are the initial appointment and evaluations by a certified Lovett Dental Upper Kirby dentist. You want someone experienced in applying veneers so that the application is seamless. During the initial appointment, our team may provide a range of services, such as:
Dental bonding
Dental exams
X-rays
Fluoride treatments
Dental sealants
Then, the dentist will bring you back for another appointment. During this appointment, the dentist will grind down the specific teeth preparing them for the dental veneers. Also, the dentist makes a custom mold of your teeth.
Finally, at your last appointment, the dentist applies the veneers to your teeth. The dentist will use cement and ultraviolet light to complete the process. Now you're ready to shine!
Contact Lovett Dental Upper Kirby to Get Dental Veneers Today
At Lovett Dental Upper Kirby, our dentists are experienced at applying veneers. We can assess your situation, making sure you get the perfect fit for your teeth so your smile is bright and vibrant. We offer a wide variety of other services, including:
Don't let your oral health go another day. Contact Lovett Dental Upper Kirby. Take charge of your teeth today by calling experts at 713-490-8888, or contact us online to learn more about dental veneers. We'll get you scheduled for an appointment today.