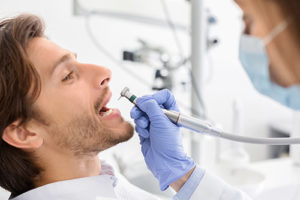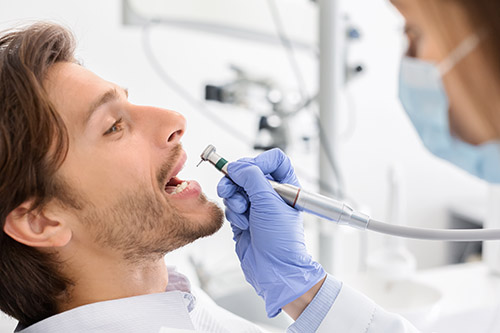 Gum problems often go hand-in-hand with dental decay. These problems can coalesce into real concerns that cause widespread oral health problems that may be unpredictable and hard to manage. Thankfully, we at Lovett Dental Upper Kirby can help with specialty dental services. Our trained dentists can provide help for periodontics that you need to keep your gums and teeth as secure as possible for years to come.
Types of Periodontic Problems
Periodontic issues take on many different forms. Most people probably know about how tartar and plaque form on their teeth and cause decay. However, they may not realize that this same process occurs on the gums. When it does, a person is going to experience a myriad of issues that can become quite painful and hard to manage, including:
Sore gums that are sensitive to the touch
Bad breath that stays a consistent issue
Bleeding gums, particularly when brushing
Pain when chewing near sensitive areas
Swollen gums that cause sensitive teeth
Loose teeth due to swollen gums
In many cases, these issues can trigger receding gums, a severe problem that exposes the jaw to a broader array of health issues. Thankfully, specialists can help decrease the risk of these problems and help restore a person's overall dental and periodontic health. Fully understanding these treatment options will make your periodontics go much more smoothly.
Periodontic Treatment Options
Periodontal care takes on many different forms. Each option is designed to help manage specific issues that may develop with a person's teeth. By fully understanding these options, you can make an informed choice that reflects your best needs. Just a few options from which you can choose include:
Gum graft surgery – Helps to manage gum recession
Regenerative care – Restores your gums to natural health
Laser surgery – Uses lasers to remove plaque and stains
Dental crown lengthening – Expand your crowns to make them healthier
Dental implants – Support your general gum and dental health with replacement teeth
Other procedures, such as pocket reduction, helps to reduce decay and infection. Also, plastic surgery can help to restore your jaw strength in many ways. If you want non-surgical treatments, such as pain management, you can choose these less invasive options. Just make sure that you choose a professional who has your health needs in mind.
Get the Best Periodontic Dentistry at Lovett Dental Upper Kirby
At Lovett Dental Upper Kirby, we have years of experience with periodontics. Our professionals have trained for years to become the most trusted experts in the area. Just as importantly, they are often native to the area, meaning that they have a dedication and respect for the citizens that you might not get elsewhere. Our team is a genuinely coherent and caring group of dentists.
And we also offer a comprehensive level of multidisciplinary dentistry. We can provide the following services for you and your family:
Orthodontics and post-braces care
Maxillofacial services
Endodontic services
By working with our professionals, you can create a consistent level of treatment that passes generational boundaries. We often work for our clients for decades to provide the treatment that they need to stay healthy. In this way, we can keep a consistent level of treatment that makes your overall oral health easier to track.
Learn More About Periodontic Dentistry at Lovett Dental Upper Kirby Today
Contact Lovett Dental Upper Kirby to learn more about our pediatric dentistry. We work with many types of insurance and are willing to adjust payment plans to meet your needs. Call 713-490-8888 or contact us online now to learn more about our care options and how we can help manage your periodontal and dental health for years to come.