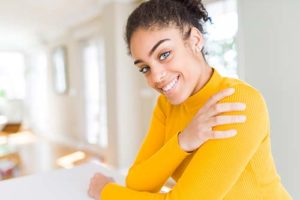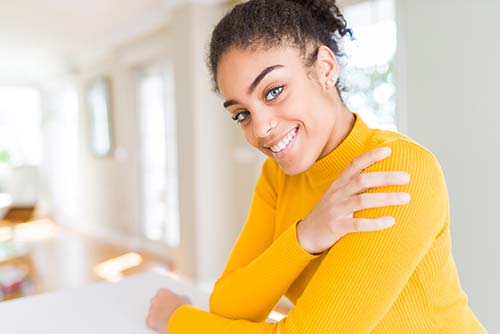 Teeth whitening services at Lovett Dental Upper Kirby not only help restore your teeth to their natural color but also identify the root cause of your discoloration. While poor dental hygiene is one of the leading causes of yellowing, staining, and discoloration, other factors such as medications or a traumatic injury may also lead to discoloration.
Cosmetic issues with your teeth prevent you from smiling and can make you self-conscious. Tooth discoloration is one of the most common cosmetic dental issues in the country. Tooth discoloration has several major causes and can indicate that you have an underlying dental issue.
If you are unhappy with the appearance of your teeth or are interested in teeth whitening services, it is important to practice proper oral hygiene and regularly see your dentist to prevent further damage. Cosmetic dentistry at Lovett Dental Upper Kirby gives you a smile you want to show off.
Do I Need Teeth Whitening?
The leading cause of yellowing, staining, and discoloration is failing to practice proper oral hygiene. Brushing not only helps prevent plaque and tartar but also helps prevent discoloration. Your teeth are protected by enamel, and when you fail to practice proper oral hygiene, the layer of enamel protecting your teeth can thin or darken.
Some other major causes of tooth discoloration include:
Medications

Coffee, tea, and tobacco use

Aging

Tooth decay, plaque, and tartar

Genetics

Environmental factors
Genetics plays a role in the coloration of your teeth, as some people are born with brighter and thicker enamel. Not consuming the proper amount of fluoride in your diet, which is especially common when you ingest too much fluoride, can also lead to yellowing and staining. Tobacco use is another common cause that often creates the need to receive teeth whitening.
With help from Lovett Dental Upper Kirby, teeth whitening also commonly works to reverse the signs of aging in teeth. As you age, the enamel on your teeth wears down. When your enamel layers become thinner, you are more likely to experience discoloration. Teeth whitening can help identify the cause of your discoloration, which can help prevent discoloration from reoccurring.  
Benefits of Teeth Whitening
Overall, discoloration and stains can dull your smile, but with professional teeth whitening tools, you can be proud to smile widely and laugh heartily each day. Brilliant, white teeth can show that you have good dental hygiene habits and make people think you're more successful and attractive. As a result, these services can significantly improve your self-esteem. Our teeth whitening services offer a wide array of benefits, including:
Better results: Over-the-counter teeth whitening products claim to provide a better smile and whiter teeth. However, in actuality, these services may only lighten the shade of your teeth by one or two shades. Professional teeth whitening services, however, can drastically improve the appearance of your smile. 

More work where you need it: Most over-the-counter teeth whitening services are one-size-fits-all. This isn't the case with professional teeth whitening. Instead, you can get lighter teeth and remove stains to the degree you desire. 

More comfortable: Because we tailor our teeth whitening to your unique smile, you don't have to worry about discomfort due to ill-fitting teeth whitening prosthetics. 

Faster results: When you get professional teeth whitening, you can see results in just one session. Alternatively, over-the-counter methods can take days to weeks for people to see results. 
To learn more about the benefits of teeth whitening services, please reach out to Lovett Dental Upper Kirby. 
Teeth Whitening Services at Lovett Dental Upper Kirby
Teeth whitening services at Lovett Dental Upper Kirby can help return your teeth to their natural white color. When you decide to check out teeth whitening, it is important to address your discoloration's underlying cause.
For example, if tartar and plaque are the main reason you are suffering from discoloration, it is likely that you will need to obtain professional teeth cleaning prior to treatment. Making sure plaque and tartar are removed before receiving teeth whitening services maximizes the effectiveness of treatment.
Teeth whitening services typically only take one in-office treatment. Your dentist will use a low concentrate, hydrogen peroxide-based formula to bleach your teeth. Teeth whitening dissipates large patches of discoloration, which results in your teeth returning to their natural color.
Teeth whitening services can also provide whitening kits that you can use at home, which are far more effective than over-the-counter products. Professional teeth whitening works best when you ensure that you maintain proper oral hygiene. If you fail to continue to see your dentist annually or practice proper oral hygiene at home, you may need to repeat teeth whitening treatment.
Reach Out to Lovett Dental Upper Kirby Today for Teeth Whitening Services
If you are struggling with discoloration, yellowing, or staining, finding the best professional teeth whitening service doesn't have to be hard. Lovett Dental Upper Kirby offers the teeth whitening services that patients trust. Call us today at 713-490-8888, or contact us online to find out more about our teeth whitening services. Contact Lovett Dental Upper Kirby for all of your dentistry needs.